Having a space dedicated to dramatic play is essential to any early education center. Dramatic play allows a child to explore and emulate roles and tasks that they see daily. Role-playing in careers and everyday tasks helps students with complex ideas like community, behavior in environments, and teamwork. It also allows them to explore careers they look up to and find intriguing such as vets, doctors, and cashiers.  
With the major changes to education in the past year, dramatic play has understandably taken a backseat. Classrooms have focused on easily sanitized items and wipeable products.  Here are 4 steps to creating an easy-to-clean dramatic play center.
Dedicate a Space
The first step is to establish a space. This can be as involved as creating a space with dramatic play-specific furniture or as easy as pulling out a couple bins. The key here is creating an easily sanitized space and staying away from carpet and rugs. Plastic bins make for an easy to clean option, as well as our Baltic birch furniture sets with a UV coating which are stain resistant and easy to sanitize.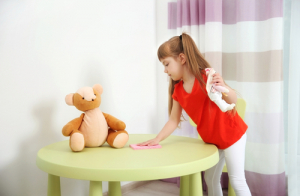 There are also many DIY options for this on our Pinterest as well, like furniture made out of cardboard boxes and old furniture. Though cardboard boxes are not easy to clean, they are recyclable and readily available for one-time use.  
Pick a Theme
Next, you will want to set a common theme and change it every once and a while. If you have the resources, you can even change your theme monthly or seasonally. Changing the theme helps you contain the props you have and keeps kids engaged. Common themes are:  
Home

 

Grocery store

 

Vet/Doctor

 

Construction

 
Looking for a more unique theme? Try these!  
Zoo

 

Autobody Shop

 

Post Office 

 

Garden

 

Space Station

 
These dramatic play ideas are there to support your students' wants and imagination. So, feel free to ask them for their ideas, too! 
Source Props
Props are the "tools" students need to successfully imagine that their play is real. Whether it be two toilet paper rolls or real binoculars, these intricate details can really bring play to life. The wonderful thing about dramatic play props is most are easy to clean! Plastic props are typically dishwasher safe and fabric items can go in the washing machine. However, there are some props like books, dolls, and foam playsets, that you should stay away from while trying to create your easy-to-clean space.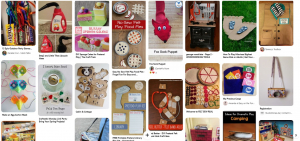 The must-have props to have in your dramatic play center are:  
Costumes

:

 

careers, cultures, celebrities, characters, etc.

 

Stuffed 

a

nimals

 (that you can throw in the washing machine)

 – 

great for a vet/doctor or animal care

 

Playsets

:

 food, cleaning supplies, gardening tools, etc.

 
The great part of props is that a lot of them are DIY as well! Check out our Pinterest for our DIY ideas, including sock puppets, woodland animal masks, and felt tea bags. If you aren't much of a crafter (or don't have the time) we have a whole category dedicated to all things dramatic play! 
Enjoy! 
We hope these dramatic play ideas inspire you to create a clean space for your students to express their creativity and live out their imaginations. What kind of dramatic play ideas do you implement in your classroom?