With the 2020-2021 school year beginning under a thousand different board-approved plans, many places are beginning to go back and provide some face-to-face instruction. This means that teachers must again create new ways to be creative in their classrooms. Doing this all-the-while remembering that even though all the rules around returning to school have changed, there remains one constant factor in our chosen field, and that is our students. Here are a few ways to rethink your classroom to keep your students physically distanced, safe, and engaged while you are face-to-face.
A Visual Six-Foot Line

To help my students understand how to line up with our new classroom guidelines, I took a set of circular calendar numbers that matched my Home-Sweet-Classroom theme and laminated them. I then placed them six feet apart on the floor and ran electrical tape between the numbers. Each child knows their assigned number for our line order, so when I ask the class to line up, they:
walk to their number
wait for the number in front of them to be seen
follow the black tape around the room and out the door
My room has two doors, one into the hallway and one directly to a fenced-in outdoor classroom area, so I have two numbers (1 through 3) placed on the floor, so that no matter which door we are going out, the line stays organized and socially distanced. The two lines of 1 through 3 connect in the middle of the room so that numbers 4 through 21 are the same, no matter which way we are exiting the room.
Getting Physical
My kindergarten classroom lost it's free-play centers for several reasons. First, students in a center aren't meeting the guidelines for physical distancing. Secondly, I had to make room for the students' tables to be six feet apart.
My class gets a scheduled outdoor mask break in the morning and another one at noon when we go outside for recess. Other than walking in the hallway to get our lunches and take them back to our classroom, we are in our room all day. Do not read any of this as complaining because I am so excited and thankful to be spending my days being face-to-face with a roomful of excited kids who are ready to learn, but I did worry about how my kids would get their energy out. Every teacher knows that kids needs multiple movement breaks throughout the day because no matter how the rules around school have changed, we all know that students' energy levels haven't.
Create a Sensory Walk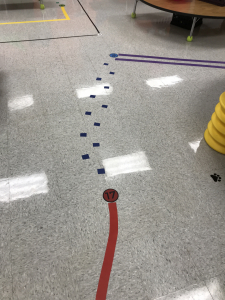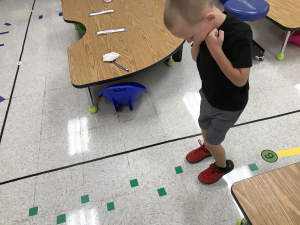 To combat this, I created a Sensory Walk around my room. I bought bright colored floor stickers and ordered multi-colored vinyl floor tape typically used in gymnasiums. This floor tape is wide, stays stuck, and comes up easy without a lot of mess.
I placed the circular numbered floor stickers and then used the same color of vinyl floor tape to create a unique path that the student needs to follow to the next number. Each number is placed at least six feet from the other numbers and students can only get from one number to the next by walking on the vinyl tape. Here is a breakdown of my tape patterns:
Small pieces of tape = tip toe
Zigzag and wavy lines = a tightrope
X = two-foot hop between numbers
Each student stops at the next number and I call out a new activity that the whole class does.  Some examples of activities that the class completes while on the circular numbers are:
three jumping jacks
taking a dance break to something classic like The Electric Slide or Walking on Sunshine
standing on one foot as long they can
saying in unison, "Our teacher is The Talented Mr. Smith!" (this one makes me laugh out loud)
spinning around two times
jumping up when the teacher says words that rhyme (hat/scat) or squatting if the teacher says words that begin with the same sound (bat/ball).
Free Play Centers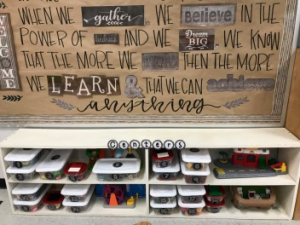 I really struggled with how students could still explore and build through play this year. To find a solution, I bought 16 plastic shoe boxes and 4 square Rubbermaid containers and numbered each. I then went through my centers and found all the materials that could be sanitized and placed one item in each container. I have various types of building blocks, Lincoln Logs, Orbeez, a plastic family and house, Matchbox cars, and Mr. Potato Heads in the different containers. Each child is assigned a container for the day. If they don't like the container they have been assigned to for the day, they have white paper and crayons as well as Play-Doh in their individual crates that they can use during center time. I still struggle with the lack of socialization that my students usually get from centers, but I'm thankful that we have a way for students to continue to explore independently.
Are these ideas ideal? Not in my world. But I worked really hard to make sure that I make the most of my time with my students. All while keeping them socially distanced and safe but still engaged and ready to learn!  What ideas/tips have you come up with this year to make your classroom work?