Fall is approaching quickly, and soon kids will go back to school. There will be greater importance on keeping classrooms clean and help children distance properly. For many of us, we know this is easier said than done due to limited space and budgets. Here are 4 tips with product suggestions or replacements that might help you keep your classroom clean.
Tip 1: The carpet must go!
Carpet is a staple in many early education classrooms, but it is a breeding ground for germs and bacteria. Carpets are difficult to clean, and depending on the size it can be difficult to space out. Some great alternative options are vinyl seat cushions for the ground. Each child can have his/her own, and the seats are easy to clean. Another option here would be asking the children to bring their chair over or investing in some plastic floor chairs.
Tip 2: Fabrics and porous items are not your friend.
Dramatic play is a critical part of childhood development as it leads to imaginative play and social skill development. Dramatic play allows children to converse with each other, but those costumes are not easy to clean or disinfect. So, now is the time to assess the products you have in this area and make some changes. One option is to focus more on grocery stores, farmer's markets, and outdoor construction. This would allow you to step away from the costumes and place in easier to clean products in this center. The construction role play set is a great way to keep costumes in play as the vests are easy to clean and everything else can be wiped down and disinfected as needed.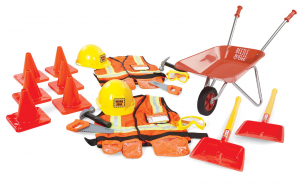 Tip 3: Mix up your sensory station
Sand, noodles, or rice are great products to use at the base for a sensory table, but they are not easy to clean, and you do not want to be dumping them out daily. So, consider trying to create a water table and get products that float, sink, or help move water around. Children will love exploring this type of sensory product, but if you are looking for something more life rice or noodles, check out Kidefetti. They are plastic pellets that can be put in a laundry bag or even a pillowcase and run through the wash, but note that this needs to be cleaned and disinfected daily.
Tip 4: Limit the touched surfaces
This might be easier said then done since trying to keep kids from touching things is a skill, but the fewer items you have out for your children the easier it will be to clean. Consider rotating products and store things in plastic bins to make them not as accessible to children. Work on splitting the kids into groups and provide them with a bin of several easy to clean items and then at the end of the day you know exactly what needs to be cleaned. It will also help you identify if certain toys or items need to be cleaned more or removed if someone does get sick.
Although it is not fun to have to change up the classroom and take out some of the fun items, it is the best way to prevent spreading germs and keep an easy to clean classroom. What other helpful tips do you have that you are going to implement into your classroom for the upcoming year?
Find More Resources for Back-to-School: 
How to Teach Children to Stop the Spread of Germs