Currently, school systems are going through some temporary changes. Students are being sent home for unknown periods of time and in some cases, parents are now becoming teachers. Navigating the pressure of educating a young child can be challenging and frustrating. Here are some tips and tricks to keeping children in the routine!
Create Routine
As you are beginning to settle into your children staying home, it is important to start a routine. Rather than blocking off specific time slots for activities, focus more on getting a series of things done. Go about your school-day morning routine as usual and attempt to follow their typical school schedule. You should be able to reach out to their teacher and request a schedule for their usual day. This will help your child realize that they are still expected to learn during this time at home.
Create a Visual Aid
Schedules are great for younger learners as they give a visual representation of the day ahead. They are also used to seeing them in their classrooms. Not only are they helpful for the children, they are helpful to you as you navigate your new position as an educator. These visual schedules can be as simple as writing on a piece of paper or whiteboard, or as involved as being a little more creative.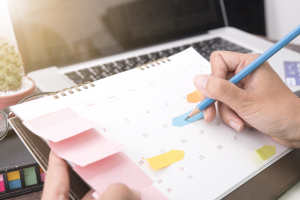 Typical Schedule
If you are unsure about some common classroom activities here are some to inspire you:
Read Aloud
Morning Circle – may involve games, songs, puppets, books, etc.
Centers – may include math, literature, science, etc.
Clean Up
Gross/Fine Motor Activities
Music & Movement
Be Flexible
The great thing about your child learning from home is that the schedule is flexible. If it is a nice day, or a learning opportunity appears, it is a great time to take advantage of it! If you find yourself looking for learning activities or resources, check out these SPARK Resources.
Have Fun!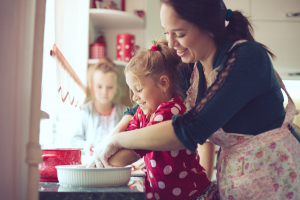 While this is an unprecedented time that is full of uncertainties, be sure to dedicate some time to have fun. This a great chance for your children to learn some skills in ways they couldn't at school. So, take this time to make learning opportunities out of mundane, everyday tasks. For example:
Let them help with lunch – measuring, taking turns, counting, series of events, etc.
Take a walk – count leaves, measure length, explain what trees need to grow, etc.
Clean the house – explain the importance of cleanliness, series of events, responsibilities.
Have them take care of an animal – teaches responsibility, series of events, taking care of others.