This month, I started writing about the value of process art, but just as I was putting my thoughts onto paper, my preschool was given notice from the CDC that schools in our area are to close for at least three weeks. Because our spring break immediately follows, I'll be out of work for a month! This is quite a dilemma for many families and us nonsalaried teachers, but we're all in this together, and we simply will need to "make it work".
This situation has my wheels turning. How I can keep providing a service to my families that will help them pass the time in a fun and educational way, and hopefully, will encourage all to stay home and stay healthy? Below I will list some activities that I will share with my families based on what we do at school and my own personal experiences. You also will find many ideas online for at-home art and science activities.
Making It Meaningful
With social distancing being enforced, it's too easy for you or a caregiver to plop your child in front of cartoons all day, but you all know better! Stimulate their brains, learn something new, get messy, and take this time for family to bond in a special way.
Language and Literature
Have grandparents or other relatives video tape themselves reading a story book to your child and allow your child to play it whenever they want. I'm planning on sending video stories for my children using the felt board, puppets, and other story supports.
Create a dramatic play area within your home. Use recycle materials. Boxes can be turned into stoves, sinks, and refrigerators. Have children paint and design them. Let them make the decisions. Do you want to make a kitchen or maybe a veterinary hospital for your stuffed animals? What kinds of food do we want in the kitchen? Use fabric scraps or redesign unwanted clothes for dress up.
Clean and organize your child's room with your child and discuss what items they want to give away to someone who needs them.
Write a social story together using the child's art and photos of him/her to support the story.
Create a puppet theater out of a box. Make your own puppets from felt or other recycled materials. Put on a show of your own creation or retell a story that has been read. Ask the child, "What other ending could that story have?"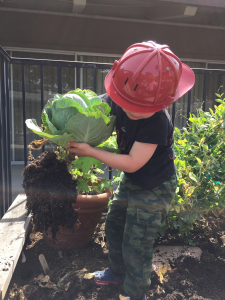 Gross Motor
Turn on the music and dance!
Build a fort with blankets, chairs, and pillows. An old computer keyboard makes great controls when building a rocket ship.
Depending on where you are in the country. Grow a vegetable garden. Besides yards, gardens can be grown in containers. Look for untreated scrap wood and build a container together.
Weed the yard.
Teach your child how to dead-head flowers with pruning shears.
Paint a fence.
Take a hike or go on a walk!
Cooking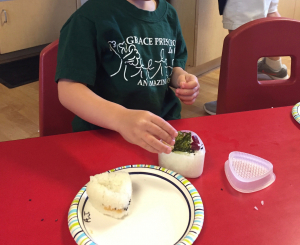 Besides making treats and everyday cooking, you may want to consider having your child help you in prepping food for a week to reduce visits to the grocery store.
Some unique things to make:

Cheese (check out the kits at New England Cheesemaking Supply Company)
Yogurt
Hand-cut pasta
Ice cream
Sprout seeds to eat on salad
Sourdough starter for bread making
Japanese Onigiri (the children make this at our school and love it – I use a sushi rice recipe)
Granola
Canning, food dehydrating, or other food preservative projects
Science
You could bring out baking soda and vinegar every single day your child is home and they would never get tired of it. Add watercolor or food coloring, glitter, tiny beads, a plastic dinosaur, and let them add and mix whatever way they want. An old medicine dropper is great for dropping in vinegar and good for fine motor skills.
Test out a bunch of paper airplane designs. Which one flies the farthest or does the most loops?
Build a terrarium out of a large clear plastic or glass bottle.
Create pollinator watering stations.
Build structures with toothpicks and gummy bears or marshmallows.
Grow rock candy.
Art
My class could do watercolor every day. They change their own rinse water and we dabble in many techniques – wet-on-wet, salt wash, salt sprinkle, plastic wrap, and simply, color mixing. Keep the projects open-ended to promote creativity and individualism.
Create a collage.
Sew with yarn and burlap.
Decorate Easter eggs.
Make toys for your local animal shelter.
Set up a permanent creation station for your child. Continually add new, interesting materials, different types of adhesives, a watercolor paint box, scissors, and let them freely create.
A final note
The possibilities for making your social distancing time with your child fun and very special are endless. The internet is a fantastic resource, but it also has many craft projects that are not developmentally appropriate or supportive of creativity, such as coloring sheets, so be thoughtful in your choices. If you need more ideas, Play with a Purpose has curated a category full of their content for at-home resources. Make the best of your child's time at home, but above all else, I wish you and your family great health. Stay safe!
Some of my favorite rainy day/social distancing products from Play with a Purpose: