Getting outside and being active is so important to your child's development. Even if you are living in an apartment building and don't have your own private backyard, getting your little one outside should still be a priority. You can still go on walks, take trips to a park or try some of these outdoor activities!
But if you have a backyard (or front yard) with a little bit of room, you can easily incorporate some of these outdoor play activities for toddlers into your day!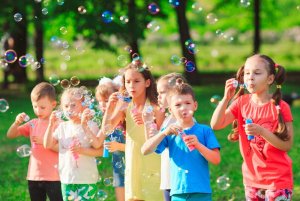 Water Play
Playing with water is so simple, yet it's packed with so many learning opportunities. It is also a great sensory experience for young children. Water play doesn't need to be complicated. It can be as simple as helping mom or dad water the garden!
Here are a few other ways your child can play and learn with water!
Get all your paint brushes, paint rollers, and paint pans together. Fill the pan (or a bucket) with water. Let your child paint the sidewalk or a fence. You can use vocabulary words such as "up", "down", "paint", "circle", etc. while they paint.
Put some plastic fish (store bought) or DIY ones like these into a big bin or small child's pool full of water. Encourage your toddler to "catch" fish. This is a great opportunity to naturally incorporate counting and introduce new vocabulary words such as "big, little, catch, fish" and colors.
The next time you have a large cardboard box, be sure to save it! Cut the box so you can lay it out flat the grass with the plain side (no writing) facing up. Have your child step into water and then walk across the cardboard. You can take a turn as well and then compare the differences in feet sizes. Next, have them put their hands in the water and crawl along the cardboard, taking note of the handprints.
This is another super simple activity and a great sensory experience. It is also a way to work on fine motor skills through play. Fill a large bin with water and add some small plastic cups, bowls, measuring cups, spoons, turkey baster, medicine syringe, etc. Encourage your toddler to pour from one cup into another. Have them use a turkey baster or syringe to suck up water and then squeeze it out a small cup. While this might sound boring to an adult, you would be surprised how long this activity will entertain a toddler!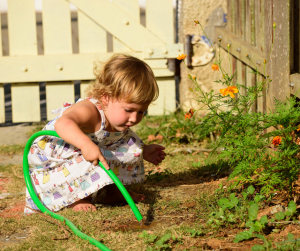 Get out the hose, a bucket of water, and some sponges (soap is optional). Have your child wash their trike or ride on vehicle – I love the Cozy Coupe cars for toddlers! Talk about words such as "dirty, clean, drive, car wash," etc.
Mud Kitchen
A mud kitchen is another great sensory experience for children. You can go all out and purchase one, make one like this, or just buy an inexpensive wood table and place some bowls and spoons on top.
If it's been a dry few weeks, you may need to make your own mud. Simply get some dirt/sand and add water. Encourage your child to mix various muddy concoctions in the bowls. Add some grass and twigs! Talk about what your child is "cooking". Use words such as "stirring, baking, cooking, pouring", etc. Your child will get dirty, but it will be well worth it!
Balance Beam Walk/Obstacle Course
A balance beam can easily be created with a 2" x 4" beam. Just lay it down on the grass and watch your toddler carefully walk across it. If this is something you will be using regularly, you can make an extension activity by having your child paint it.
If your yard is big enough you can incorporate the balance beam into an obstacle course. Another option is to cut the ends off an old cardboard box and use it as a tunnel (this can also be painted). Throw a stick down that your little one needs to jump over after crawling through the box. You get the idea! This is a great way to practice gross motor skills!
Water Ball Pit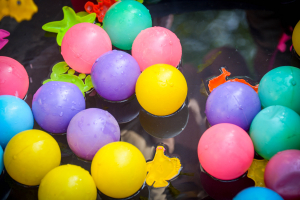 Children love ball pits! So, why not through some small plastic balls into a blow-up pool (filled with water) and have some warm weather fun! Label the colors of the balls while you child picks them up and throws them about.
Bean Bag Toss/Snowball Toss
Place a hoop or plastic bin on the ground. Have your child stand a couple of feet back and practice throwing a beanbag or small ball into the hoop/bin. This is also a fun winter activity. Make snowballs and use those instead of bean bags to throw at a target or into a bin!
Snow Spray Paint
Here is another fun outdoor winter activity for toddlers. And it's so easy to do! All you need are a few empty spray bottles (you can pick these up at a dollar store) and food coloring. Fill the bottles with water and a few drops of food coloring. Then bundle up, head outside, and start spray painting the snow. This is a great activity to practice motor skills such as squeezing (to get the water out of the bottle) and vocabulary such as color names.
Outdoor Toddler Activities Are Fun and Easy!
As you can see, it doesn't take much work to create simple outdoor play activities for toddlers that include opportunities for learning. Remember "learning" for a toddler is very different than for an older child or adult. Toddlers are constantly learning new skills, and this happens easily outdoors while engaging with adults and peers!