Many kids are lucky when they go to school because they have all these tools at their fingertips for learning, but what about at home? What can kids use at home to continue to learn like they do in school without having to buy all the equipment or special tools? Well, many items used in a classroom can easily be made from things found all around the house.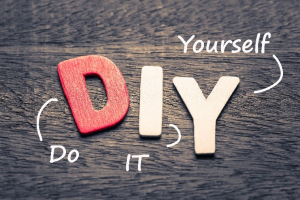 1. Magnifying Glass
This can be made from an empty plastic 2 L soda bottle and water. First draw a circle on the curved part of the bottle near the top. The cut out the circle and pour a little water into the circular plastic. You will now be able to hold this carefully over any object and see the magnification.
2. Light Table
Are you looking to incorporate a light table, but you do not have one at home? Simply take a plastic tote and flip it over. Place a small lamp, flashlights, or Christmas lights inside the bin and you have your very own light table! Turn the lights down or off to help see the effect. This works great for tracing activities too.
3. Play Dough
There are so many recipes out there for this, but many include cream of tartar. However, here is one that with the help of an adult for measuring every child can make on their own.
Ingredients: 4 cups of flour, 1 cup of warm water, 1-1/2 cups of salt, 2 tablespoons of vegetable oil, food coloring.
Directions: Mix all dry ingredients into a bowl and set aside. Then separate the water and oil evenly for the number of colors you are going to make (I suggest no more than 4 unless you double the recipe). Once the food coloring is mixed in with the liquids, evenly divide the mixed dry ingredients into each color and mix. Lastly, place a little more flour on the table to roll out the finished dough. This will help smooth out the consistency. The store each color in sealed plastic bags or plastic containers.
Helpful Hint: Store your playdough in the fridge to help it last longer.
4. Children's Paint
If your kids are tired of coloring and want to do something with paints and stencils, here is an easy way to create paint at home.
Ingredients: 1 cup of water, food coloring, 1-1/2 cups of flour, 1-1/2 cups of salt.
Directions: Mix the water with the flour and the salt. Your mixture should be a liquid but not overly runny (best described to be a little thicker than pancake batter). Divide the white paint into various containers so you can add the food coloring to have different colors. You can add more water at this time to each color if you want a slightly thinner paint. Then you can use to paint like normal and since the paint is non-toxic children can also use their fingers.
5. Sensory Table
This is probably one of the easier things to make at home that many people sometimes overlook. All you need is a tray or container that has some sort of edge on it, and you can easily create a sensory table. The purpose of a sensory table is to stimulate the child's senses through various items, and they can all be found around the house.
Water – Fill a bucket with water and have children put different objects in the water. Do they sink or float? Do heavier items cause the water level to rise?
Dry Ingredients – This can include rice, flour, beans, or pasta. Any of these items work to help children feel different materials and smell different things. Then using other household items such as buttons, toy cars, or Legos let children explore the sensory table.
Dirt – You can go outside and dig up some dirt to fill the table. Playing in the dirt is so much fun, and you can even bury some loose change in the dirt for your kids to dig for and find. Have them use a toothbrush or paint brush to pretend to be an archaeologist.
Learning at home can be a challenge when there are so many cool things to use in a classroom but don't let that discourage the learning at home. Sometimes we must just think outside the box and use our imagination. What are some of the learning tools often found in the classroom that you are creating at home for your kids to use?