Young children might not understand why things are different. To follow safety standards established by CDC and local licensing guidelines, we have made a few changes.  Before COVID we had a very open-door policy where parents of children would come in, chat a bit, and then leave in a few minutes.  Now, we talk at the front door, wearing a mask, while we take the children's temperature and give a squirt of hand sanitizer. Then they go to wash and put on their mask to wear inside, while we are waiting for friends to arrive.  We had a Reme-Halo (RGF technology) installed that scrubs the air that will kill germs 3 feet out from a sneeze or cough. This was installed just a month before news of COVID spread which worked out perfectly.  It helps stop the spread of viruses when we are inside.
Wearing a mask isn't comfortable, it isn't what we all want to do, but we are learning to be considerate of others and to help care for ourselves. Reading social stories about wearing a mask (from autismlittlelearners.com) helps the children understand why to wear a mask and diminish opposition and fear.  Here is a story about how to wear a mask. Also, we talk about how it is temporarily inconvenient.  It is good to look at tough things through the lens of – it is temporarily inconvenient.  I picked this up while reading a book titled "Happiness Doesn't Just Happen" that you can purchase at this link. https://happinessdoesntjusthappen.com/#  I find life is often about perspective.
Do we have to be IN the classroom?  What does an Outdoor Classroom Look Like?
So, let's take that perspective to address COVID in the classroom.  Do we have to be IN the classroom?  Let's take the classroom outside!  Vitamin D acquired from the sun can help boost our immune system, and there is typically more space to spread out outdoors.  Win-Win!  Outdoor classrooms, like an indoor classroom, each have their own flavor, or inspiration, depending upon the teacher or child-care.  You can have an all-natural approach, or you might have a shiny clean approach (artificial turf, rubber flooring, etc.), or maybe a theme approach.  We are more of an all-natural approach.  Yes, when the children are engaged in play it often includes being dirty, wet, and quite possibly muddy! I want children to be actively engaged in whatever they are doing, so that usually means being getting dirty while they are exploring and learning.  What does an outdoor classroom look like?
It has centers just like an indoor classroom. Possible centers:

Block
Gathering area
Homeliving
Language
Math
Music
Reading
Science

Centers divided by borders of some kind.

Existing vegetation
Low fencing
Grass vs mulch or sand to define an area
Planters can be used to define an area

Possibly need tables?
Do you need outdoor storage, or will you just carry things outdoors daily?
Do you need to love nature? Not necessarily, but it helps.
Is it hot outdoors?
What can be done to combat the heat in your outdoor classroom?  Just a few modifications can make it quite comfortable as you are learning and playing.
First – Shade is important, especially when you are in the sunshine state. There are many different options for shade other than natural shade from trees.  Check out shade sails or umbrellas at your favorite retailer, they come in many colors and sizes.
Secondly – add a mister line or standing misters. Think of Busch Gardens waiting in line.  We purchased a 60' mister line and wrapped it around our trees.  You can turn it on just a tiny bit or more if you want to have "water day".  It lowers the temperature by about 10 degrees.  We also have a few stand misters in the grassy area, and a fan to blow the mist.
How to be successful in your Outdoor Classroom.
Ok, it's set up, what now?
Do you want to teach successfully in your outdoor classroom?  Plan for success and follow through!
Sit down with the children and find out what "rules" or "expectations" are important. Pair the rules/expectations with pictures of the children following those rules.
As children help make the rules they "own" them and are more likely to internalize them. Younger children need more guidance coming up with rules. Daily before exiting to the outdoor classroom briefly review the rules.
Post them on the door that you exit to your outdoor classroom. Below is an example of possible expectations to post for your students. Use their favorite visuals for better engagement.
As I am teaching and reinforcing the rules/social skills, I state it positively. Something like "use your walking feet on the sidewalk", and I'm assuring them that I care about them and want them to be "safe".  We are a "safe school" so as we interact with others our job is to keep ourselves safe and our friends safe.  This encourages empathy as we include others in our thinking of safety, caring, and concern.
We also have a problem solver solution board in our outdoor classroom to assist with solving problems.  That is what we call it when two or more friends (all are friends) have a disagreement. As you see problems occurring:
Calmly escort the involved children to the problem-solving board and help them solve their problem so they can return to play. Not solving it for them but walking them through the steps so they can solve it and be joyfully friends again; some need a little guidance.
Optionally, have solution suggestions on a keychain that you can take to the space where they are having their disagreement.
Helping them solve a disagreement before tempers escalade is the best time to help them solve it.
Remember that social skills are a "skill" that is learned, just like math, language, science, etc. We don't get angry at students for not knowing math skills, additionally, we shouldn't get angry with students that need to learn social skills.  They will learn them faster if we stay calm when we teach them.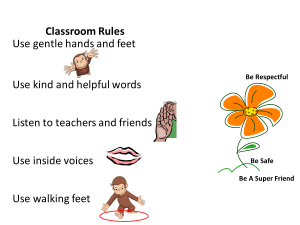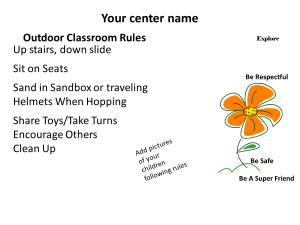 To explain the "rules".  The flower expectations mean we are "growing friends" by being respectful, safe, and a super friend.  The rules are how we are being respectful, safe, and a super friend.