How is the energy in your classroom right now? Are you in a tough season or is your room buzzing with happy little voices?  No matter what season you are in, it is good to be outdoors. The fresh air, vitamin D, and room to play will boost everyone's energy! Heading outside for short breaks is great, but have you explored an outdoor classroom to increase time outside?
Do we have to be IN the classroom?
Do we have to be IN the classroom to teach? The short answer is no. Let's take the classroom outside!  Vitamin D acquired from the sun can help boost our immune system, and there is typically more space to spread out outdoors, making it a win-win!
Outdoor classrooms, like an indoor classroom, each have their own flavor or inspiration. You can have an all-natural approach, or you might have a shiny clean approach (artificial turf, rubber flooring, etc.), or maybe a theme approach. I personally use more of an all-natural approach. When the children are engaged in play it often includes being dirty, wet, and quite possibly muddy. I want children to be actively engaged in whatever they are doing, so that usually means getting dirty while they are exploring and learning.
What does an outdoor classroom look like?
It has centers just like an indoor classroom. Possible centers:

Block
Gathering area
Home living
Language
Math
Music
Reading
Science

Centers are divided by borders of some kind:

Existing vegetation
Low fencing
Grass vs mulch or sand to define an area
Planters can be used to define an area

Possibly need tables?
Do you need outdoor storage, or will you just carry things outdoors daily?
Do you need to love nature? Not necessarily, but it helps.
Is it hot outdoors?
What can be done to combat the heat in your outdoor classroom?  Just a few modifications can make it quite comfortable as you are learning and playing.
First, shade is important, especially when you are in the sunshine state. There are many different options for shade other than natural shade from trees. Check out shade sails or umbrellas at your favorite retailer, they come in many colors and sizes.
Second, add a mister line or standing misters. Think of Busch Gardens waiting in line.  We purchased a 60' mister line and wrapped it around our trees.  You can turn it on just a tiny bit or more if you want to have "water day".  It lowers the temperature by about 10 degrees.  We also have a few stand misters in the grassy area, and a fan to blow the mist.
How to be successful in your outdoor classroom
Ok, it's set up, what now?
Do you want to teach successfully in your outdoor classroom?  Plan for success and follow through!
Sit down with the children and find out what "rules" or "expectations" are important. Pair the rules/expectations with pictures of the children following those rules.
As children help make the rules they "own" them and are more likely to internalize them. Younger children need more guidance coming up with rules. Daily before exiting to the outdoor classroom briefly review the rules.
Post them on the door that you exit to your outdoor classroom. Below is an example of possible expectations to post for your students. Use their favorite visuals for better engagement.
As I am teaching and reinforcing the rules/social skills, I state it positively. Something like "use your walking feet on the sidewalk", and I'm assuring them that I care about them and want them to be "safe".  We are a "safe school" so as we interact with others our job is to keep ourselves safe and our friends safe.  This encourages empathy as we include others in our thinking of safety, caring, and concern.
We also have a problem-solver solution board in our outdoor classroom to assist with solving problems.  That is what we call it when two or more friends (all are friends) have a disagreement. As you see problems occurring:
Calmly escort the involved children to the problem-solving board and help them solve their problems so they can return to play. Not solving it for them but walking them through the steps so they can solve it and be joyful friends again; some need a little guidance.
Optionally, have solution suggestions on a keychain that you can take to the space where they are having their disagreement.
Helping them solve a disagreement before tempers escalate is the best time to help them solve it.
Remember that social skills are "skill" that is learned, just like math, language, science, etc. We don't get angry at students for not knowing math skills, additionally, we shouldn't get angry with students that need to learn social skills.  They will learn them faster if we stay calm when we teach them.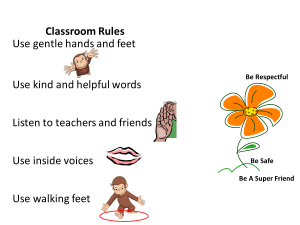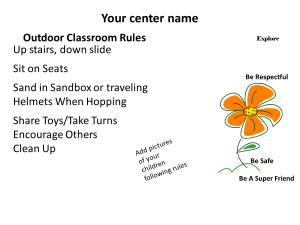 To explain the "rules".  The flower expectations mean we are "growing friends" by being respectful, safe, and a super friend.  The rules are how we are being respectful, safe, and a super friend.
How to make an outdoor classroom using your existing playground
Do you have a climber? Do you have swings? How can you incorporate that into a classroom now? We began by looking at the current space and thinking about what areas we wanted to start with. We stood back and looked at the plants and trees, and worked on one section at a time.
It's important to have the support of parents, so incorporate them into the planning or building of the space. While creating our space, we even had parents help dig and lay a trike trail with walking pavers that went around the trees. Parents also volunteered to put together new or replacement furnishings.
After the trike trail, I wanted to add the music area. After surveying the area, it was decided to put the music area in the center of the trike trail. We asked one of the childcare parents to build us a xylophone.  You can find directions here to make your own xylophone, then add a few other things to make different sounds. Hang different-sounding wind chimes, and add wooden music instruments. You can find great additions to your music area here: Musical Instruments.
Now what area or center to create next? Isn't this fun! You get to be creative doing something you love.  Let's try the block center. How can you create a block center outside? What do you want to have outdoors for children to build with? What kind of blocks? What other additional materials?
Make sure to create a gathering space in your outdoor classroom, such as stumps for group gathering times, or for play space. You can probably check with a local tree trimmer to get some logs appropriate for your gathering space or a collection of stumps. These also make great "stepping logs" or "stepping stumps" for learning balance and playing together when it is not a circle activity or story time.
Tips to fund your outdoor classroom
If needed, host a fundraiser or two. We used GoFundMe in combination with a trike-a-thon. Hosting fundraisers will allow you to expand your outdoor spaces!