The playground planning process for your school or childcare center should be a fun and exciting. It is a time to re-imagine the space and look at all the new possibilities. However, due to budgets, safety regulations, and limited space, this can sometimes be more of a headache than fun. It's time to relax and breathe a little easier with these 6 steps for planning, budgeting, and installing a playground.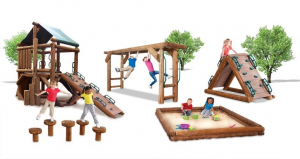 Throughout this whole process, it is important to remember that one of the biggest benefits to an outdoor play space or playground is providing an area that helps boost the amount of physical activity that children get. It is our job as educators and childcare professionals to work with our resources and our team to make sure the new and improved space is one that is inviting and inclusive to all.
Assemble a Team
It is important to create a team that will help you with the process or defining the scope, of your project. Things to consider are, funding, budgeting, delivery and installation. This is a team of people who will dedicate their time to see the project through to the end and are passionate about its possibilities.
Envision your Play Area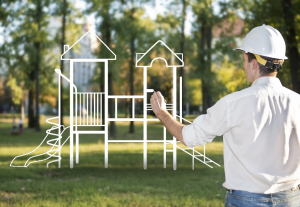 This step is the best and the easiest of the whole process. This is where the team gets address important questions. Who will use the play area? How many children will be playing at one time? Are there any unique features you want to have on the playground or a color scheme you want to follow? What additional pieces do you want on the playground such as benches, tables, shade structures, or even paint stations? By asking the group these questions, it is easier to define the scope of the project. This then encourages others to see what everyone is hopes to accomplish. At this stage you are not worried about the playground size or the work that will go in to making the dream a reality; instead, everyone is dreaming and enjoying this process.
Analyze the Site and Make a Budget
Where you put the playground will affect the size of the equipment you can have and where items can be placed. It also helps point you in the right direction for the type of surfacing required and if shade is necessary. In many cases, you want the playground to fit in with the current outdoor elements while enhancing the play space.
Some questions to ask are: Is there a natural slope that will allow for proper drainage? Are there natural elements that need to be removed or planned around? How accessible is the site for a crew to bring in the playground equipment and install it? What type of surfacing would you like to have on the play space? After answering these questions, it is important to figure out how much you are able or willing to spend. Once you have a budget, it will allow you to begin looking at playground equipment.
Design your Playground and Contact a Vendor
Now that the budget is set, and you know about your site, it is time to choose the products. Keep in mind that surfacing and installation will be about 50% to 60% of your budget, depending on the products selected. By using the Play with a Purpose Playground Planning Tool, you can set the boundaries of your playground and begin to build a cart. Once your cart is complete, it is time to reach out to the vendor and get an official quote processed.
Order and Install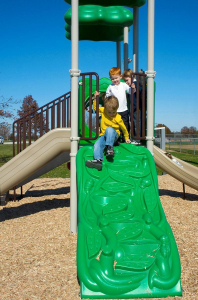 When you are ready to make your purchase, it is important to get the items on order and schedule an installer. Playgrounds typically can take anywhere from 2 to 8 weeks to deliver, depending on the playground systems ordered. In addition, installers are busier in the summer months. If you are on a timeline for the project, it is important to get the products on order and your installer booked.
Enjoy!
Congratulations! You have successfully ordered your playground and had it installed. Now, it is time to enjoy the playground and watch as your children play and discover this new space.
During the planning stages, ordering process, and installation, if you need any help do not hesitate to reach out to our friendly helpful staff. We can help you through any stage of the playground planning process.