Stuck inside all winter long? Too cold or rainy to go outside for recess? Looking for a way to spice up handwriting activities in the classroom? If you answered yes to any of these them one of these writing activities maybe just for you. They can be created with things around your house or classroom and are quick and easy to set up.
Tin Foil Writing:
If you are looking for a unique item for children to write on try tin foil. You can use any type of writing or drawing material. The tin foil is shiny and of course tin foil makes a fun noise as the children write! Children can also use their fingers to make indentations in the tin foil for the use of multiple mediums. I love having kids draw stories on the tinfoil and then sharing the story with their classmates. Your early learners can practice writing shapes, letters, numbers, their name, and sight words.
Sensory Writing: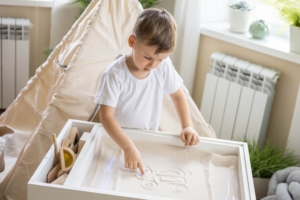 Children love to explore their senses, so why not turn it into a way to practice their writing? Start off with a contained area, grabbing a plate works great! Then add some sugar, sprinkles, or flour to the plate. Have children use their fingers, a straw, or anything that is shaped like a pencil to write letters, numbers, and their name! Another option is to just use the tables in the classroom and cover them with some shaving cream or whipped cream! Then have your early learner write numbers, letters, sight words and their name on the table!
Mess-Free Sensory Play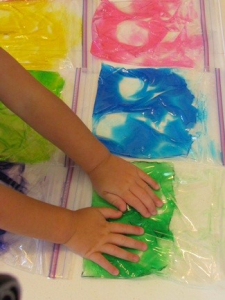 This last idea is one of my classroom favorites as it mess-free – if you seal the bag correctly. First you grab a Ziploc bag and some hair gel. I added some food dye coloring to the hair gel. Add a few scoops of hair gel to the Ziploc bag and close it tight. In my classroom I make sure to use duct tape on the seal to make sure it stays closed. Then children can use their finger to move the gel around so that they see letters and numbers they are writing. By putting a piece of white paper under the bag on the table children can clearly see what they are writing.
Despite the age of your children, they must start somewhere with writing. So, if your little learner isn't ready for a dry erase marker or any sort of writing utensil, grab a small manipulative to work on their pincer grasp. Mini erasers, buttons, or anything small work for students to grab and then write their name. What are some of the other handwriting activities that you like to do in your classroom that are inexpensive and easy to set up? Please share them!