It's hard to believe that Mother's Day is less than a week away. With schools closed and many stores as well, it is time to get a little more creative in what to make for all the mom's this year. Here are 5 ideas that are simple and easy and can be done with very little supervision but will make a great gift for all the wonderful Mom's in our lives.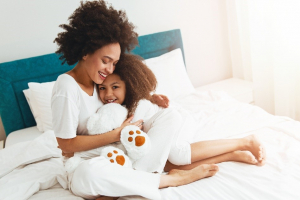 1. Make a Card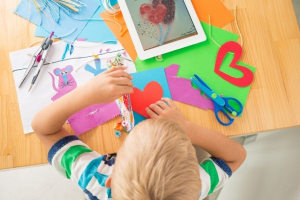 Get out all the art supplies and some paper and watch your children go to work decorating the perfect card for Mom. Remember it is all about the thought here, so maybe help your child spell out "MOM" but let him/her write it or write with dotted lines so they can work on their tracing. No matter what, this is sure to be a hit with Mom.
2. Decorate a Cake
Now this one needs a bit of supervision, but with the help of an older child or adult, bake a cake, get a variety of different color frostings and sprinkles, and let your kids go to work decorating it. Moms will love getting to share the special dessert with the family and love seeing your children's creativity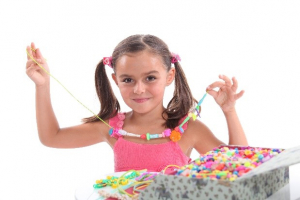 3. Make a Bracelet or Necklace
These two simple jewelry ideas are great and can be made many times with things found around the house. If you do not have beads and string, find some ribbon and use dry noodles. Children can use markers to color the noodles and then string them together to make a necklace or a bracelet for mom. You can even make some edible ones using pretzels.
4. Coupon Book
With the help of someone that can write, ask your child what they would like to give mom in the form of a coupon. Some suggestions can be a big bear hug, extra snuggles at night, or maybe help clean. Depending on your child's age, these can vary, but help them write them out onto some paper and have them decorate the pages with pictures of the coupon or just some nice things. Then staple the book together for them to give to Mom.
5. Movie Night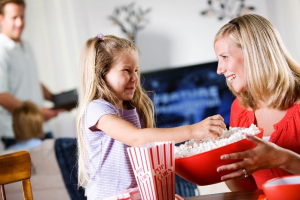 While this may seem like it is fun for the whole family, it is a way to make Mom feel special on her day. Kids can work on creating a few movie posters for what the movie options are and create tickets for everyone. However, for Mom, you can make a special ticket inviting her to the movie night and letting her pick the movie. Create a special seat just for mom and put together a tray of her favorite snacks. Ask your children to help prep the tray and then show Mom to her spot. Put them in charge for the night collecting the tickets and serving the snacks. They will love it and Mom will get a needed break and a nice movie night with the family!
Remember that it is always about the thought that counts more than the cost of the gift, so use this time to create something very special because her day is not too far off. If you have any other ideas, please feel free to share!
Need more crafty activity ideas? Check out these blogs:
At-Home Activities to Learn Letters