Proper planning is key to your playground's success. Learn more about the factors to consider as you begin the process. 
Step 1 – Fund Your Project
Here are some ways to pay for your project: 
Fundraising

 

Grants

 

Financing (contact us for an application)

 

General or Capital Funds

 
Step 2 – Understanding Zones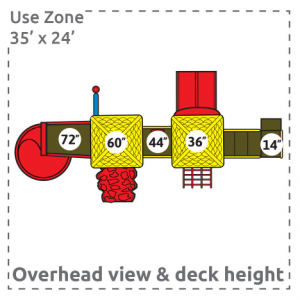 Use zones are defined by the CPSC as the surface under and around a piece of equipment which a child falling or exiting from the equipment would be expected to land. For easy planning, the use zone dimensions are shown on applicable products. 
Step 3 – Choose the Right Equipment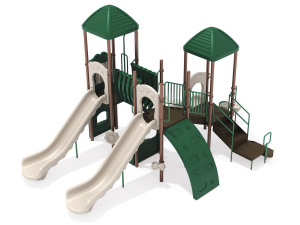 Here are a couple questions you should ask yourself as you choose your playground equipment: 
What age(s) of children will use your equipment? This will help determine the size of the structure(s) you choose, as well as the variety of events to accommodate those ages.

 

What type of construction will you choose? Structures made of steel, vs. aluminum or plastic, all offer different benefits and price points.

 

Does your location offer natural shade, or will you need to create shaded areas with a structure roof and/or canopies?

 
Check out our equipment as you plan >>> 
Step 4 – Choose Surfacing & Amenities
Playground surfaces fall into two main categories: 
Loose-fill materials – 

wood fiber,

 rubber mulch, wood mulch, sand, and pea gravel

 

Unitary synthetic materials – interlocking tile, synthetic grass turf, and pour-in-place surfacing

 
Site Amenities provide your play area with long-lasting, user-friendly furnishings. Don't forget to include, picnic tables, benches, and trash receptacles. 
Step 5 – Shipping & Delivery
How accessible is the site? Can large equipment and/or machinery get into the area if necessary? (Typically a 10′-14′ wide access point is needed during installation) Playground equipment is heavy, so based on shipping options and how the equipment will get to the site location, a freight quote should be requested at the time of purchase. 
Step 6 – Installation
There are 3 options for installation: 
In-ground is the choice for permanence and durability. Posts must be set in the ground with a concrete footing.
Surface mount uses bolts or anchors to attach the system onto a concrete surface
On-ground uses spikes to anchor to the ground. Easy to install. no digging required.
Looking for more playground information, and install? >>> 
Have no space for a playground? Learn more about a natural play space >>>