Late Fall into early winter can be a busy and stressful time in the classroom. Parent-teacher conferences are wrapping up, children are no longer as excited for school as they once were, and the change in weather makes everyone anxious. However, despite all this, children must still learn and teachers must still teach. So, here are 3 fall activities that fit right in with the season, but give children a more fun way to learn basic skills.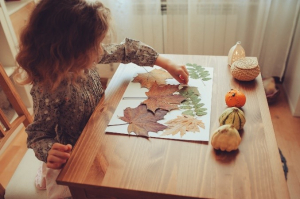 Number and Color Recognition
It is important to continue to help children learn how to recognize different numbers by the dots on a dice or seeing a number and matching it to a specific color. Children also start to recognize the spelling of a color the more they see it and use those colors. Play with a Purpose has helped make learning these things fun and easy with fall printables. The first allows children to roll dice and then give each turkey some feathers to match the number on the die or dice. Not only is the child recognizing the number, they are working on fine motor skills as they color and draw some turkey feathers. The other two provide children with a chance to color based on the numbers they roll on the dice. The best part is when these are complete, you now have artwork for the walls or classroom door.
Size Comparison and Communication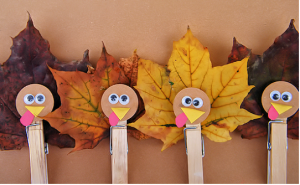 Bring the outdoors inside and help children create clothespin turkeys with colorful fallen leaves from trees outside. Allow each child to collect a few leaves and then ask them to pick the largest or the smallest one and make a turkey. Once the class is done making their turkeys, ask them to get in a line from smallest to largest. Children will love making these turkeys but also working together to get themselves in a line based in size. It encourages children to compare their turkeys and communicate about where they need to be in line.
Thankful Turkey Bags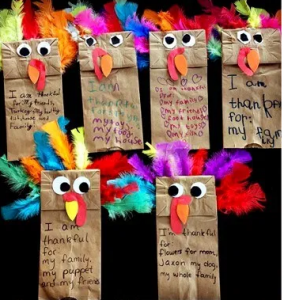 This activity is more of a reflective activity for children, but it helps them think about what they are thankful for and what makes them happy. It is a chance for them to be expressive and creative. Once these are created allow students to tell a story with their thankful turkey puppets and enjoy the stories. They are easy to make; all you need is brown paper lunch backs, glue, feathers, googly eyes, and paper or pre-cut beaks and gobblers based on the children's ages. After creating the puppets, ask children to share one-by-one what they are thankful for and help them write it on their bag. When the puppets are done, have each child share a story or ask them to share their Thanksgiving traditions.
These activities are just the beginning of the many fun things you can do with your children in the classroom as the weather changes and as they get anxious for the holidays. Do you have another idea? Please share below your favorite classroom fall idea!