Looking for a fun product that will not only help get the wiggles out, but also work on balance or give your children a fun place to sit? The Whally Board is perfect! Children love to use it to rock back and forth, stretch out, or pretend to surf. Here are 4 great activities and ways to use this board.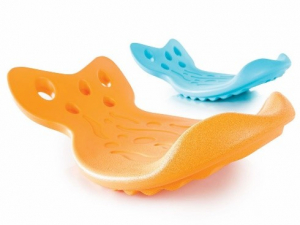 1. Rocking
Place the Whally Board down on the floor and have your child sit in the middle of it with their feet crossed facing the side. Children will be able to rock side-to-side. After they master the side-to-side movement, have then turn 90⁰ and rock front to back. Children will love doing this while watching their favorite show or even outside in the yard or on the driveway.
2. Indoor Surfing
Once children feel comfortable sitting on the Whally Board, they can progress to standing on the board and pretend to surf. It is easiest to put one foot near the tail fin and one foot toward the front. Children can shift their body weight forward and backward and use their arms to balance. It will look and feel like the children are catching a wave in the living room.
3. Stretching
This board really has it all from the rocking abilities when it is upright, to a place to stretch out when it's upside down. Start by flipping the board over and use the bumpy side to lay across on the child's back. This helps stomach muscles decompress and increase blood flow. As the body relaxes ask children to take slow, long breaths to calm the mind and body. Children can also lie on their stomachs to feel the bumps or stand on the board in this position and slowly stretch their feet out and feel the bumpy ridges.
4. Balance Walking
This is the perfect item to add to any obstacle course. Children can walk on the board and slowly rock it forward to step off. Have just one? No problem! Just adds it in to any course. If you have a few, place them one in front of the other and challenge children to not step on the carpet. This rocking creates a dynamic stage for children to work on their balance and body control.
The Whally Board is a great addition to any household or classroom thanks to its many uses. Also, the boards stack for easy storage. Children can even use the tail part as a head rest and lay in the board while reading or watching a movie.