With the holidays coming soon, your activities should be very engaging and fun to hold children's interest. Hands on winter activities are perfect for this time of year! So get some fun, engaging learning activities ready for your kiddos and let's learn! There are many great resources available online. No need to recreate what someone else has already designed and put the work into. They are available for very small amounts of money on the Teachers Pay Teachers website.
Matching Alphabet Socks
One of our favorite activities for learning and having fun in December is matching socks with upper-case alphabet to lower-case alphabet. Hang socks with all upper-case letters on the line with clothes pins. The child chooses one sock out of a bowl and races over to the clothesline to find the matching alphabet letter in the lower case. The fun is enhanced when two children play at the same time and race to see how many socks/letters they can match. The game requires 52 socks, but they do not have to be matching socks. Any random socks will do. An alternate game would be Matching Mittens or Gloves with alphabet letters written on them. You can modify this game a few ways to meet where your children are cognitively. If they are not quite at matching upper to lower case letters, they could always match upper to upper case, or lower to lower case. For even younger children, you could match colors.

Snowman Names
Snowman Names are great for learning what order the letters need to go in for a child's name. It is so exciting to see them learn to put the letters for their name in order as they learn about the order of letters to form words. You can find this printable for a free Snowman Names editable printable from A Dab of Glue Will Do.
Nature Snow People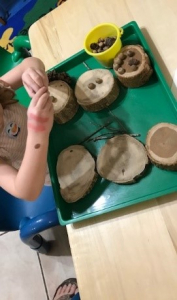 Nature Snow People are what we make here in Florida and have great natural resources for building them. Start with a few tree cookies, add acorns, a little of this or that, and Viola! You have a Nature Snow Person. The book Snowballs by Lois Ehlert was inspirational for us making Nature Snow People from natural items. I love the artwork in Snowballs! Here are some snowman books for reading during chilly days.
Snowman Math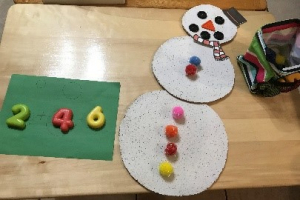 For this activity I purchased corkboard squares and cut them into three different size circles to form the snowman. One part of this activity is putting the circles from small to large or large to small depending if you are starting at the top or the bottom. Next is deciding where the face parts go and putting on buttons. Next is finding the correct number for the number of pom poms on each circle on the paper. I simply drew different size circles so it would be easier for the children to know where to put the number.
 Cranberry or Gumdrop Buildings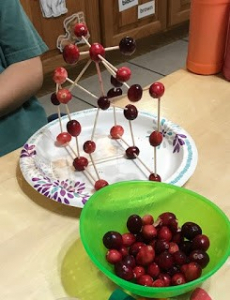 Another favorite activity for this time of year involves a bit of engineering. Building with toothpicks and Gumdrops or Cranberries. Each has unique challenges to it. If you use gumdrops they are easier to hold as they are a little bit bigger, gummy, and have more space to hold the toothpick. Cranberries are also fun but a bit harder as they are smaller and less forgiving if you need to reposition the toothpick. It is interesting to see the shapes or buildings that children construct. Some children construct buildings, while less experienced children may simply stick them together in a string and you need to show them how to put multiples together to make shapes. I love this activity because the children have such fun and don't realize they are learning while building.
Candy Cane Science or Candy Cane Slime
Almost everyone loves candy canes and no list would be complete without Candy Cane Science. For this activity you need 4 or 5 solutions to see which one dissolves first. Your liquid choices should include warm water, cold water, vinegar, milk, and whatever else you choose. Be sure to record their hypothesis about which will dissolve fastest. Then check back periodically to see the results. While candy cane slime is mostly for fun. It does involve mixing some ingredients together and watching as they change from one thing to another. And it's so fun to stretch and pull it apart.
Gingerbread Math and More
We love gingerbread cookies in winter. So, we enjoy including them in our learning activities. I found a December Morning Workstations printable that includes gingerbread and candy cane related activities. It also has light sight words. We particularly like the math matching using links. Check it out here (Marsha McGuire on Teachers Pay Teachers). A fantastic book to read along with these activities is Jan Brett's Gingerbread Baby
Additional Snowman or Gingerbread activities can be found here.
Now go and play and don't forget to share with others your favorite winter learning activity!