If you are in a face-to-face setting then there is a good chance that your students are faced with wearing masks. What I've discovered is that masks have been around so long at this point is that there aren't a ton of issues with having students keep them on. But I have come up with an auditory, visual, and physical prompt to help remind your little ones about keeping their masks on without disrupting your entire class.
Auditory Prompt
My first tip is my class's favorite. I took the song, Head, Shoulders, Knees, and Toes and changed the words. When I am teaching or observing the class while they are working and see that some of my kindergarteners' masks have slipped down off their nose and occasionally off their mouth as well, I start singing this song:
"Masks cover nose and mouth."
I sing this to the tune of, "Head, Shoulders, Knees, and Toes". This serves as a gentle reminder to the whole class to check their masks. My kids love it so much that now when I break out into song, most of my class echoes in their deepest possible voices, "nose and mouth". It cracks me up and everyone naturally checks their masks. Nobody looks around to see whose masks was down because I've made it a point to sing it at various times during the day, making sure that I sometimes sing it when everyone has their mask on properly just to make sure that everyone checks.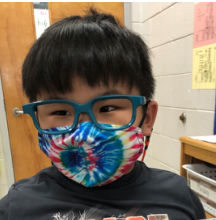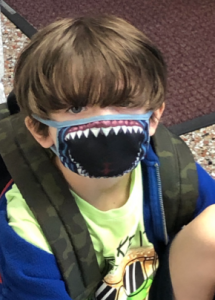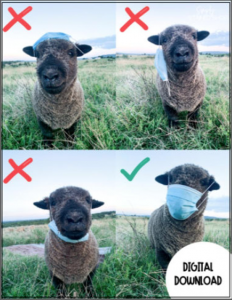 Visual Prompt
My visual trick is one that I learned about from my co-worker, Jessica Skeens. Simply Stained Shop on Etsy has a 4 corner collage of a sheep named Rupert. Rupert has a mask on in each of the four pictures but in three of the pictures, he is wearing the mask incorrectly.
At a cost of about 50 cents for the download, it was an easy purchase that our kindergarten classes love. Each of our classrooms has a printed copy of this print in frames and they serve as a visual reminder of how to and how not to wear your mask. Be sure to check out their shop and let them know you heard about Rupert from my blog!
Physical Prompt
Finally, I decided that a physical prompt would be needed in situations when I didn't want to stop teaching or interrupt a quiet working environment. I decided that my physical prompt would just be touching my nose because typically when a mask isn't on properly, it's just down off the child's nose.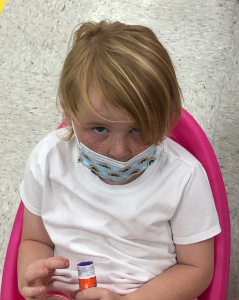 Whatever you choose as your prompt, just make sure that you are consistent and are making eye contact with the child who needs the non-verbal reminder. I simply touch the side of my nose because 1) it's the facial area of need and 2) because it makes me feel like I may be doing some magic trick, similar to Samantha from BeWitched. You know, I touch my nose and change the actions of someone else. If that's not real-world magic, then I don't know what is.
I know that none of these tricks are true magic, but I hope you found something that may make your days with masks, a little easier.