All around the country, teachers, parents, and children are adjusting to a time when many parents are working from home and children are going to school at home. This is a very new view for many, and it is a time of adjustment for everyone, so it is important to remember "it doesn't have to be perfect".  As parents, it is important to remember that many teachers can attest to your feelings of moving to in-home learning as it is how many of them feel for the first few weeks of school. Every year is different, every class is different, and what might have worked the year before might not work now, and that is okay. Here are some helpful tips to ease you and your kids into this new learning environment.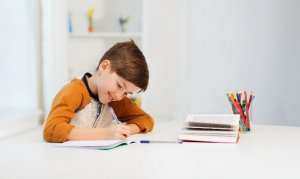 1. Take a Deep Breath
This is not only new for you, but for your children too. So, it is important to take a step back and just breathe. This will not be perfect right away, but you and your kids can do this and get through it
2. Create a Routine and Stick to It
Just because you are at home and can be on your own schedule, do not fall for that. Instead, continue the wake-up routine and bedtime routine your kids would see if they were physically going to school. Then block out time throughout the day for learning time, discovery or playtime, and electronic time. Also, use this as a time to reconnect as a family and plan some game or movie nights. Keeping you and your kids in a routine will help give focus to the day and aid in your child's learning. If you need more tips on routine, check out this blog – How To Keep A Schedule While Teaching At Home.
3. Designate a Learning Space
This is about how stressful it can be when your room is messy, or you feel out of place. The same goes for your kids and their learning. Create a space where your kids can comfortably work each day. Maybe it is your kitchen table, a desk in their room, or even the coffee table. Any space is fine, but it's important to make it theirs and set it up in a way that will help them fee comfortable.
4. Recess and Lunch
Don't forget to break up their day and learning with fun! This is the perfect opportunity to put PLAY back in our kids' days by taking short breaks at various times. Since there is not a whole class learning at once, certain lessons might take less time and it is important to just let kids play (device free).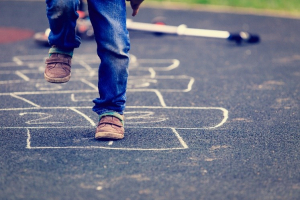 Remember we are all in uncharted waters with kids home from school and learning in a new environment with their parents becoming the teachers, and that is okay. This is a learning time for us all, and hopefully this blog gave you a few tips to making the transition easier.
Do you have a tip for something that is working for your family as you switch to at home learning?