Creative play allows children to build and engage their imagination. Building with blocks introduces them to 2D and 3D concepts. Creative play and construction introduce kids to engineering concepts and allows their minds to escape and just be kids. The Ice Ice Building Set allows for unique designs without limitations. Build insects, animals, spaceships, rockets, Ferris wheels, towers, or buildings. Here are 3 different Ice Ice Building Set activities that can be created:
1. Free Build
Just build anything and everything, the possibilities with this building set are endless! However, if you are looking for ideas, here are our two of our favorites.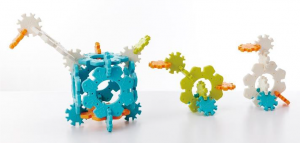 Build a goose and her goslings. Once they are built, get the whole family together to play "duck, duck, goose"! Children will love having physically built animals to play this game with.

Build a butterfly and take your creation outside with you while searching for the real thing.
2. Basketball Court
This is perfect if you don't have a hoop around but have this building set. Use these unique bricks to build a hoop with a backboard and work on skills like defense, teamwork, and hand/eye coordination. Best part is that you can make any space becoming a basketball court. Check out this video for some great ideas!
3. Soccer Goal
Have you ever thought about having a soccer goal inside or outside that is easy to store? Why not make one out of these unique building snowflakes? Take turns with your kids or have friends take turns being the goalie or the kicker. The best part is that at the end of the day, you can easily clean it up and store it. Here's a video of how to quickly build it!
Looking for even more ideas? Here is another video with a variety of different gross motor skill development ideas from an obstacle course with a tunnel to playing hopscotch. This building set is perfect for hours of fun!
If you are interested in the Ice Ice Building Set check them out here: